Issue 58 of the research*eu results magazine – Drilling in thick ice: lessons from the past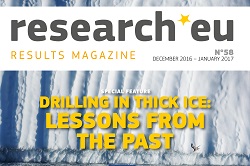 In the early 1950s, a handful of pioneering scientists initiated the first ice core drilling in the likes of Alaska, Antarctica and Greenland. Decades later, ice cores still have much to tell us: Not only about our planet's past, but also indirectly about its future. In the face of rising concerns over the consequences of unbridled CO2 emissions and the resulting climate change, scientists indeed hope that ice core-related revelations will allow for the design of better climate models.
The EU is no stranger to ice core science. The European Project for Ice Coring in Antarctica (EPICA), which was partly supported by the European Commission, notably helped to obtain full documentation of the climatic and atmospheric record archived in Antarctic ice and compared it with that of Greenland — thereby revealing precious information about natural climate variability and mechanisms of rapid climatic changes during the last ice age.
These efforts have been pursued under FP7 and now under Horizon 2020, with a total of 21 projects funded under the two framework programmes. As winter comes and some of these projects get very close to their end, the CORDIS editorial team decided it was time to put the spotlight on seven of them. From traces of cosmic dust to forest fires, abrupt climate changes and oceanic carbon storage, these projects provide a great insight into ice core science's added value for the scientific community.
Other topics in this edition include the following highlights:
- Novel regeneration therapy promises to significantly improve bone repair
- Understanding how finance can better serve the economy, society and the environment
- Graphite and renewable hydrogen production from food waste
- Magnetic attraction helps explain the motion under the ocean
- Why human brains hold the key to smarter artificial intelligence
- Applying shop floor knowledge to achieve better run factories
- New sensory tool gives industry food for though
- Spin nano-systems result in new type of quantum bits
The research*eu results magazine is the main source of information for all findings related to EU-funded science projects. It covers a large spectrum of topics including biology and medicine, environment, energy, transport, ICT, industrial technologies, social sciences and space. It is published 10 times per year in English.
For more information, sign up for a free subscription and to download the new edition, please visit:
http://cordis.europa.eu/research-eu/magazine_en.html
Source: Based on information from the research*eu results magazine n°58
Related information