Research*eu focus magazine n°16: Collective awareness platforms - Digital social innovation for sustainable societies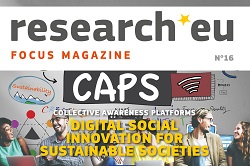 CAPS (Collective Awareness Platforms) is an emerging area which is already shaping the future of our connected society. This is based on an Internet which is evolving radically, and CAPS is addressing important weaknesses and unexplored areas.
We trust that this will contribute to make the Internet more human, more caring of European social values and more supportive of broad participation and inclusion, ultimately leading to a more sustainable and fairer society.
In order to facilitate these ambitions, this final edition of the research*eu focus the EU showcases a number of groundbreaking FP7 and Horizon 2020 projects that aim to empower citizens to make informed decisions about their consumption patterns, to foster behavioural changes and to bring about a more direct form of democratic participation.
In this issue:
- Engaging citizens on Corporate Social Responsibility (CSR)
- User empowerment through CAPS on social networks
- Knowledge sharing and widening peer-to-peer scientific participation
- Social media to support sustainable behaviour
- Tools to encourage participative democracy
- Community collective action through online tools
- Encouraging and enabling successful sustainable businesses
For more information and to download the new edition, please visit:
http://cordis.europa.eu/research-eu/research-focus_en.html
Source: Based on information from the research*eu focus magazine n°16
Related information