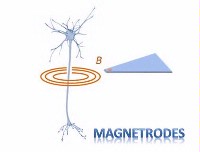 MAGNETRODES
Project ID
: 600730
Funded under
:
Electromagnetic detection of neural activity at cellular resolution
Project details
Total cost:
EUR 2 222 049
EU contribution:
EUR 1 700 000
Coordinated in:
France
Funding scheme:
CP - Collaborative project (generic)
Objective
The main goal of the project is to develop a new generation of neuroscience tools for electromagnetic measurement and spectroscopy at the neuron level.Spin electronics offers nowadays the possibility to create very sensitive, micrometer-scale magnetic field detectors. Here, we propose to exploit this technological advance to create novel tools for probing neuronal magnetic fields at the cellular level. The first goal of the project will be to develop the magnetic equivalent of an electrode, a 'magnetrode', sensitive enough to detect the very small magnetic fields induced by the ionic currents flowing within electrically active neurons, and small enough to probe a limited number of cells. We will adapt magnetrodes also for local nuclear magnetic resonance spectroscopy (MRS); thus, they could record both electromagnetic and chemical activity of neurons. In addition, means for local electric or magnetic stimulation could be integrated in to a magnetrode. We will test magnetrodes in vitro and in vivo at various spatial scales, from brain areas down to single neurons. In parallel, based on the measurements with magnetrodes, we will augment existing computational models and develop new ones to characterize the electromagnetic fields emitted by neurons and neuron assemblies. We will use these models to bridge from the activity of single neurons to macroscopic non-invasive measurements such as electroencephalography (EEG) and magnetoencephalography (MEG).This project shall pave the way towards "magnetophysiology", which enables investigating electric activity of neurons without disturbing the ionic flow and without physical contact to the cell. We will create new experimental and modeling tools for magnetic measurements and stimulation at neuron scale. The resulting techniques will be applicable in neurosciences, brain–computer interfacing and possibly in the treatment of certain brain diseases.The consortium is composed of 5 teams from 4 EU countries.
Coordinator contact
Myriam Pannetier-Lecoeur, (Senior researcher)
Tel.: +33 169087410
Fax: +33 1 69 08 40 04
E-mail
Coordinator
COMMISSARIAT A L ENERGIE ATOMIQUE ET AUX ENERGIES ALTERNATIVES
France
EU contribution: EUR 510 478
RUE LEBLANC 25
75015 PARIS 15
France
Activity type:
Research Organisations
Administrative contact: Jean-Christophe Coste
Tel.: +33 169089097
Fax: +33 169082199

Participants