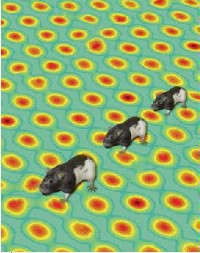 GRIDMAP
Project ID
: 600725
Finanziato nell'ambito di
:
Grid cells: From brains to technical implementation
Dettagli del progetto
Costo totale:
EUR 4 346 717
Contributo UE:
EUR 2 917 961
Coordinato in:
Norway
Meccanismo di finanziamento:
CP - Collaborative project (generic)
Obiettivo
Since the invention of the first computers, their speed and computing power have grown exponentially but their fundamental operating principles remain essentially unchanged. Computers are still operating on one or a few central processing units, each with limited interconnectivity. Such processors, coupled with fast access to memory, are good for performing precisely instructed operations on large quantities of data very rapidly, but less effective in enabling the near instantaneous processing of the rapidly changing and ambiguous information that living interactive organisms are apparently so good at dealing with. With this in mind, it has been argued that computer technology would benefit from looking at how parallel computation is handled by the brain, nature ́s most advanced computer. Our recent discovery of a key mechanism for the neural mapping of space, using the metric encoded by 'grid cells', provides us with unprecedented direct-access to some of the fundamental operating principles of cortical circuits ‒ principles to which engineers need access for developing brain-inspired computing technologies. We shall use grid cells as an access ramp to understanding massively parallel-distributed spatial computations in sufficient detail to implement these basic working principles in computational architecture. Building on our recent breakthrough discovery, and guided by new brain experiments, computationally tractable algorithms will be tested in artificial navigating agents (robots), with the overall aim of identifying cardinal elements of future emerging technologies in the domain of spatial navigation and, more generally, in the development of massively parallel multi-core interactive computers. Because the expected long-term impacts are substantial, the project group will interact regularly with advisory panels on both IPR and man-machine ethics.
Coordinatore
NORGES TEKNISK-NATURVITENSKAPELIGE UNIVERSITET NTNU
Norway
Contributo UE: EUR 1 276 520
HOGSKOLERINGEN 1
7491 TRONDHEIM
Norway
See on map
Activity type:
Higher or Secondary Education Establishments
Contatto amministrativo:
Dina Hestnes
Tel.: +47 73595289
E-mail
Partecipanti
TECHNISCHE UNIVERSITAET MUENCHEN
Germany
Contributo UE: EUR 631 942
Arcisstrasse 21
80333 MUENCHEN
Germany
See on map
Activity type:
Higher or Secondary Education Establishments
Contatto amministrativo:
Katrin Hörmann
Tel.: +49 89 289 22629
Fax: +49 89 289 22620
E-mail
SCUOLA INTERNAZIONALE SUPERIORE DI STUDI AVANZATI DI TRIESTE
Italy
Contributo UE: EUR 412 140
VIA BONOMEA 265
34136 TRIESTE
Italy
See on map
Activity type:
Higher or Secondary Education Establishments
Contatto amministrativo:
Luca Bardi
Tel.: +39 0403787201
Fax: +39 0403787249
E-mail
THE UNIVERSITY OF EDINBURGH
United Kingdom
Contributo UE: EUR 597 359
OLD COLLEGE, SOUTH BRIDGE
EH8 9YL EDINBURGH
United Kingdom
See on map
Activity type:
Higher or Secondary Education Establishments
Contatto amministrativo:
Angela Noble
Tel.: +44 131 650 9039
Fax: +44 131 651 4028
E-mail