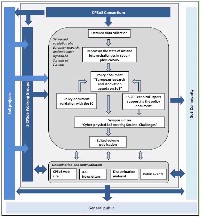 CPSoS
Project ID
: 611115
Funded under
:
Towards a European Roadmap on Research and Innovation in Engineering and Management of Cyber-physical Systems of Systems
From 2013-10-01 to 2016-06-30, closed project
Project details
Total cost:
EUR 687 723
EU contribution:
EUR 561 000
Coordinated in:
Germany
Funding scheme:
CSA - Coordination and support action
Objective
CPSoS is a 30-month Support Action that will provide an exchange platform for Systems of Systems (SoS) related projects and communities. It will focus on the challenges posed by the engineering and the operation of technical systems in which computing and communication systems interact with large complex physical systems. Its approach will be simultaneously integrative, aiming at bringing together knowledge from different SoS related communities and applications driven.It will bridge between the different approaches to the design, analysis and control of systems of systems that are pursued by different communities in theory and applications and relate the methods and tools proposed for dealing with SoS to key application domains which are important for Europe's competiveness as well as for the well-being of its citizens. The project will examine in depth application-specific issues, capture cross-industry and cross-application findings and propose new avenues for SoS analysis, design and control, towards a science of systems of systems and a European R&I agenda on SoS, involving different scientific communities, application domain experts, end-users and vendors.Three Working Groups will be created: on SoS in Transportation and Logistics, Physically connected SoS, and Tools for SoS Engineering and Management. Public events will be organised in conjunction with the Working Group meetings, floor will be given to SoS-related projects to expose their outcomes. The contributions will be summarized in a concise strategic policy document "European Research and Innovation Agenda on Cyber-physical Systems of Systems", supported by a set of in-depth technical papers, and presented at a symposium "Cyber-physical Systems of Systems Meeting Societal Challenges". The project will prepare the EU stakeholders for extracting a competitive advantage from the recent and the future developments in the area of SoS.

Coordinator
TECHNISCHE UNIVERSITAT DORTMUND
Germany
EU contribution: EUR 162 961
AUGUST SCHMIDT STRASSE 4
44227 DORTMUND
Germany
Activity type:
Higher or Secondary Education Establishments
Administrative contact:
Dorota Pawlucka
Tel.: +49 2317552599
Fax: +49 231 755 2756
E-mail
Participants
EU contribution: EUR 199 448
PLACE JOSEPH BERMOND OPHIRA I
06560 SOPHIA ANTIPOLIS VALBONNE
France
Activity type:
Private for-profit entities (excluding Higher or Secondary Education Establishments)
Administrative contact:
Svetlana Klessova
Tel.: +33 492388426
Fax: +33 493654135
E-mail
TECHNISCHE UNIVERSITEIT EINDHOVEN
Netherlands
EU contribution: EUR 92 715
GROENE LOPER 5
5612 AE EINDHOVEN
Netherlands
Activity type:
Higher or Secondary Education Establishments
Administrative contact:
Alfons Bruekers
Tel.: +31 40 247 3262
Fax: +31 40 243 7175
E-mail
HAYDN CONSULTING LIMITED
United Kingdom
EU contribution: EUR 105 876
HAUGH LANE 1
S11 9SA SHEFFIELD
United Kingdom
Activity type:
Private for-profit entities (excluding Higher or Secondary Education Establishments)
Administrative contact:
Haydn Thompson
Tel.: +44 114 2215400
E-mail