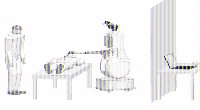 ReMeDi
Project ID
: 610902
Financiado con arreglo a
:
Remote Medical Diagnostician
Detalles del proyecto
Coste total:
EUR 4 058 836
Aportación de la UE:
EUR 3 079 995
Coordinado en:
United Kingdom
Régimen de financiación:
CP - Collaborative project (generic)
Description
The <a href="http://www.remedi-project.eu/" target="_blank">ReMeDi</a> project addresses telediagnostics in clinical environments. A successful medical treatment depends on a timely and correct diagnosis. In the ReMeDi project we develop a multifuntional robotic device, which will allow performing a real remote physical and ultrasonographic (USG) examination. Working as a multidisciplinary consortium (physicians, human-robot interaction researchers such as psychologists and social scientists, and engineers), we want to enable remote examinations that come as close as possible to direct examinations and thereby follow the most natural and common medical techniques. Our goal is to make the ReMeDi robot user-friendly for physicians and acceptable to patients by enhancing (tele-)presence with intelligent autonomous features.
Objetivo
In the frame of the project ReMeDi a robot system is designed that features medical tele-examination of patients. Successful medical treatment depends on a timely and correct diagnosis, but the availability of doctors of various specializations is limited, especially in provincial hospitals or after regular working hours. Medical services performed remotely are emerging, yet current solutions are limited to merely teleconferencing and are insufficient. Use case scenarios targeted in ReMeDi feature a robot capable of performing a physical examination, specifically of the two most widespread examination techniques i) palpation, i.e. pressing the patients stomach with the doctor's hand and observing the stiffness of the internal organs and the patient's feedback (discomfort, pain) as well as ii) ultrasonographic examination. Beside quality teleconferencing, ReMeDi features a mobile robot (placed in a hospital) equipped with a lightweight and inherently safe manipulator with an advanced sensorized head and/or ultrasonic probe; and the remote interface (placed at the doctor's location) equipped with sophisticated force-feedback, active vision and locomotion capabilities. The system is incrementally built following a user-centered design approach, and its usability with respect to the patient and the examining doctor is extensively studied in real world scenarios of cardiac examination. ReMeDi will go beyond classical telepresence concepts: It will capture and process multi-sensory data (integrating visual, haptic, speech, patient's emotions and physiological responses) into perception and reasoning capabilities making ReMeDi a diagnostic assistant offering context-dependent and proactive support for the doctor. Particular attention is devoted to safety aspects. The normative standards (both existing and in draft) and the results of ongoing research projects will be integrated in all the system development phases.
Coordinador
UNIVERSITY OF THE WEST OF ENGLAND, BRISTOL
United Kingdom
Aportación de la UE: EUR 485 700
Frenchay Campus, Coldharbour Lane
BS16 1QY BRISTOL
United Kingdom
Activity type:
Higher or Secondary Education Establishments
Participantes