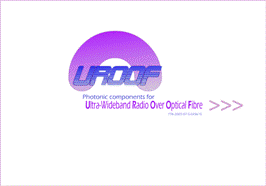 UROOF
Project ID
: 033615
Źródło dofinansowania
:
Photonic Components for Ultra wideband Radio over optical Fiber
Dane projektu
Całkowity koszt:
EUR 3 680 111
Wkład UE:
EUR 2 200 000
Kraj koordynujący:
Israel
System finansowania:
STREP - Specific Targeted Research Project
Cel
The key goal for UROOF is to investigate building blocks for enabling the delivery of Ultra-wideband (UWB) radio signal over low-cost optical fiber. The aims are therefore to study, develop, test and implement very low cost conversion solutions for direct optical-to-UWB (O/UWB) and UWB-to-optical (UWB/O) based on innovative microwave photonic concepts. Unlike state of the art radio-over-fiber (RoF) technologies that are used in the backbone of the wireless access systems, UROOF will address the challenges of the low-cost wireless personal area networks (WPAN). UROOF will study several approaches including: developing proof of concepts for O/UWB and UWB/O converters based on innovative optically controlled microwave converter (OCMC). A further study will address enhanced electroabsorption transceiver (EAT) to UWB applications. These converters will be integrated with the UWB radio frequency (RF) front-end and comprise the very low-cost access node for UROOF applications. Several UROOF applications will be investigated in the field trial: (i) range extension of WPAN over 1000m carrying real-world UWB signal with 480 Mb/s data rates and, (ii) very low-cost antenna distribution system (VL-DAS) for multicell WPAN applications. We will provide detailed theoretical and practical analysis related to the design, performance, manufacturing and implementation of UROOF novel modules including: performance analysis of the different modulation schemes in UWB to determine the optimum RoF distribution configuration, evaluation of the impact of electro-optical device non-linearities (pulse chirp / chromatic dispersion) on the UROOF distribution network, device suitability studies for multiple-access architecture VL-DAS, uncooled VCSEL-based design and optical-UWB link analysis. The UROOF partners form a highly balanced and complementary consortium, which has vast experience in the conception, design and manufacturing in both photonic components for RoF and UWB radio domains.
Koordynator
HOLON INSTITUTE OF TECHNOLOGY
Israel
Wkład UE: EUR 483 322
Golomb Street 52
58102 HOLON
Israel
Activity type:
Higher or Secondary Education Establishments
Kontakt administracyjny:
Moshe Ran
Tel.: +97235026687
Faks: +97235026685
Adres e-mail
Uczestnicy
TES ELECTRONIC SOLUTIONS GMBH
Germany
Wkład UE: EUR 250 675
ZETTACHRING 8
70567 STUTTGART
Germany
Kontakt administracyjny:
Kai Dombrowski
Tel.: +49711-72877465
Faks: +49711-72877451
Adres e-mail
UNIVERSIDAD POLITECNICA DE VALENCIA
Spain
Wkład UE: EUR 198 175
CAMINO DE VERA S/N
46022 VALENCIA
Spain
Activity type:
Higher or Secondary Education Establishments
Kontakt administracyjny:
JAVIER MARTI
Tel.: +34-963879736
Faks: +34-963877827
Adres e-mail
INSTITUT NATIONAL POLYTECHNIQUE DE GRENOBLE
France
Wkład UE: EUR 126 380
46 AVENUE FELIX VIALLET
38031 GRENOBLE CEDEX 1
France
Activity type:
Higher or Secondary Education Establishments
Kontakt administracyjny:
Beatrice CABON
Tel.: +33 476856027
Faks: +33 476856080
Adres e-mail
THALES COMMUNICATIONS SA
France
Wkład UE: EUR 285 608
160 BOULEVARD DE VALMY
92700 COLOMBES
France
Kontakt administracyjny:
Serge HETHUIN
Tel.: + 33 146132444
Faks: +33 146132501
Adres e-mail
Wkład UE: EUR 279 200
24 RAOUL WALLENBERG ST.
69719 TEL AVIV
Israel
Kontakt administracyjny:
David Meshulam
Tel.: 972-3-7674604
Faks: 972-3-6477608
Adres e-mail
INESC PORTO - INSTITUTO DE ENGENHARIA DE SISTEMAS E COMPUTADORES DO PORTO
Portugal
Wkład UE: EUR 107 125
CAMPUS DA FEUP, RUA DR. ROBERTO FRIAS 378
4200-465 PORTO
Portugal
Activity type:
Research Organisations
Kontakt administracyjny: Henrique Salgado
Tel.: +351222094243
Faks: +351222094250

UNIVERSITY OF ESSEX
United Kingdom
Wkład UE: EUR 189 200
WIVENHOE PARK
CO4 3SQ COLCHESTER
United Kingdom
Activity type:
Higher or Secondary Education Establishments
THE CENTRE FOR INTEGRATED PHOTONICS LIMITED
United Kingdom
Wkład UE: EUR 280 315
FRANCIS HOUSE 112 HILLS ROAD
CB2 1PH CAMBRIDGE
United Kingdom
Activity type:
Research Organisations
Kontakt administracyjny:
David Smith
Tel.: +44 1473 663251
Faks: +44 1473 663295
Adres e-mail