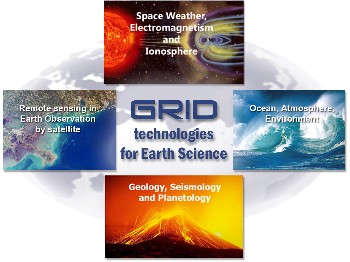 DEGREE
Project ID
: 034619
Gefördert unter
:
Dissemination and Exploitation of GRids for Earth sciencE
Von
2006-06-01
bis
2008-05-31, Abgeschlossenes Projekt |
DEGREE Website
Projektdetails
Gesamtkosten:
EUR 1 338 079
EU-Beitrag:
EUR 999 999
Koordiniert in:
Slovakia
Finanzierungsprogramm:
SSA - Specific Support Action
Ziel
The DEGREE project is proposed by a consortium of Earth Science (ES) partners that integrates research institutes, European organisation and industries, complementary in activity and covering a wide geocultural dimension, including Western Europe, Russia and Slovakia. The project aims to promote the GRID culture within the different areas of ES and to widen the use of GRID infrastructure as platform for e-collaboration in the science and industrial sectors and for select thematic areas which may immediately benefit from it. DEGREE aims to achieve this by showing how GRID services can be integrated within key selected ES applications, approaching the operational environment and shared within thematic community areas. The DEGREE project will also tackle certain aspects presently considered as barriers to the widespread uptake of the technology, such as perceived complexity of the middleware and insufficient support for certain required functionality. The ES GRID expertise, application tools and services developed so far will be promoted within the DEGREE consortium and throughout the ES community. Collective Grid expertise gathered across various ES application domains will be exchanged and shared in order to improve and standardise on application specific services. The use of worldwide Grid infrastructures for cooperation in the extended ES international community will also be promoted.
Koordinator
USTAV INFORMATIKY, SLOVENSKA AKADEMIA VIED
Slovakia
EU-Beitrag: EUR 135 660
Slovakia
Activity type:
Research Organisations
Administrative Kontaktangaben:
Ladislav Hluchy
Tel.: +421 2 54771004
Fax: +421 2 54771004
E-Mail-Adresse
Teilnehmer