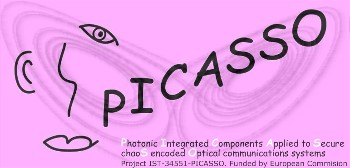 PICASSO
Project ID
: 034551
Funded under
:
Photonic Integrated Components Applied to Secure chaoS encoded Optical communications systems
Project details
Total cost:
EUR 3 931 989
EU contribution:
EUR 2 400 000
Coordinated in:
Greece
Funding scheme:
STREP - Specific Targeted Research Project
Objective
The ultimate goal of PICASSO is the development of photonic components and subsystems to build chaos-based optical communication systems. Within the framework of the project, monolithic and hybrid photonic integrated circuits will be designed and developed for the realization of chaotic transmitters and receivers. Extensive security testing, verification and calibration of the chaos encoded communication system will be performed. Different types of transmitter/receiver pairs will be fabricated and the validity of the security assumptions will be proved experimentally. Fully functional transmitter and receiver modules will be developed at four adjacent wavelengths of the ITU grid (100 GHz spacing) in the C band of the telecommunications window operating at 2.4 and 10 Gb/s. Compatibility with the existing infrastructure will be exhaustively tested and possible interactions between chaos encoded channels and conventional neighboring channels will be investigated.
Coordinator
NATIONAL AND KAPODISTRIAN UNIVERSITY OF ATHENS
Greece
EU contribution: EUR 434 624
Dept. Informatics and Telecommunications, Panepistimiopolis,
15784 Athens
Greece
Activity type:
Higher or Secondary Education Establishments
Administrative contact:
Dimitris Syvridis
Tel.: +30 210 7275322
Fax: 210 727 5333
E-mail
Participants
FRAUNHOFER-GESELLSCHAFT ZUR FOERDERUNG DER ANGEWANDTEN FORSCHUNG E.V
Germany
EU contribution: EUR 503 750
HANSASTRASSE 27C
80686 MUENCHEN
Germany
Activity type:
Research Organisations
Administrative contact:
Helmut Heidrich
Tel.: +49-30-31002538
Fax: +49-30-31002551
E-mail
UNIVERSITAT DE LES ILLES BALEARS
Spain
EU contribution: EUR 237 454
CARRETERA DE VALLDEMOSSA KM 7.5
07122 PALMA DE MALLORCA
Spain
Administrative contact:
Claudio Mirasso
Tel.: +34971172783
Fax: +34971173426
E-mail
UNIVERSITE DE FRANCHE-COMTE
France
EU contribution: EUR 283 021
CLAUDE GOUDIMEL 1
25030 BESANCON
France
Activity type:
Higher or Secondary Education Establishments
Administrative contact:
Laurent Larger
Tel.: +33381666468
Fax: +33381666423
E-mail
ATTICA TELECOMMUNICATIONS S.A.
Greece
EU contribution: EUR 80 488
DAVAKI 10
11526 ATHENS
Greece
Administrative contact:
Lambros Raptis
Tel.: +30 210 6930827
Fax: +30 210 6930675
E-mail
EBLANA PHOTONICS LIMITED
Ireland
EU contribution: EUR 218 037
UNIT 32, TRINITY COLLEGE ENTERPRISE CENTRE , PEARSE STREET
DUBLIN 2
Ireland
Administrative contact: John Patchell
Tel.: 353 1 6753223
Fax: 353 1 6753230

UNIVERSITA DEGLI STUDI DI PAVIA
Italy
EU contribution: EUR 175 400
STRADA NUOVA 65
27100 PAVIA
Italy
Activity type:
Higher or Secondary Education Establishments
Administrative contact:
Valerio Annovazzi-Lodi
Tel.: 00390382985596
Fax: 00390382422583
E-mail
BANGOR UNIVERSITY
United Kingdom
EU contribution: EUR 175 576
FINANCE OFFICE, UNIVERSITY OF WALES, BANGOR, COLLEGE ROAD
LL57 2DG BANGOR
United Kingdom
Activity type:
Higher or Secondary Education Establishments
Administrative contact:
Alan Shore
Tel.: (44)1248 382618
Fax: (44)1248 361429
E-mail
PHOENIX PHOTONICS LIMITED*PHX
United Kingdom
EU contribution: EUR 291 650
22 DOWNSCOURT ROAD
CR8 1BB PURLEY
United Kingdom
Administrative contact:
Ian Giles
Tel.: +44 2084054339
Fax: +44 2087639820
E-mail
AGENCIA ESTATAL CONSEJO SUPERIOR DE INVESTIGACIONES CIENTIFICAS
Spain
EU contribution: EUR 0
Calle Serrano
28006 MADRID
Spain
Activity type:
Research Organisations