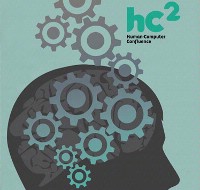 HC2
Project ID
: 258063
Funded under
:
Human Computer Confluence Research in Action
From
2010-10-01
to
2013-09-30, closed project |
HC2 Website
Project details
Total cost:
EUR 577 561
EU contribution:
EUR 490 000
Coordinated in:
Spain
Funding scheme:
CSA - Coordination and support action
Objective
HCC, Human-Computer Confluence, is an ambitious research program studying how the emerging symbiotic relation between humans and computing devices can enable radically new forms of sensing, perception, interaction, and understanding. The horizontal character of HCC makes it a fascinating and fertile interdisciplinary field, but it can also compromise its growth, with researchers scattered across disciplines and groups worldwide. A coordination activity promoting discipline connect, identity building and integration while defining future research, education and policy directions is needed at the regional, national, European and international level. The goals of HC2 are: 1) to stimulate, structure and support the research community, promoting identity building, 2) to consolidate research agendas with special attention to the interdisciplinary aspects of HCC, producing useful visions and roadmaps to support future research 3) enhance the Public Understanding of HCC and foster the early contact of researchers with high-tech SMEs and other industry players 4) establish guidelines for the definition of new educational curricula to prepare the next generation of HCC researchers.
Coordinator
STARLAB BARCELONA SL
Spain
EU contribution: EUR 244 389
AVENIDA TIBIDABO 47 BIS
08035 BARCELONA
Spain
Activity type:
Private for-profit entities (excluding Higher or Secondary Education Establishments)
Administrative contact:
Stephen Dunne
Tel.: +34 93 2540369
Fax: +34 93 2126445
E-mail
Participants
EU contribution: EUR 69 214
ALTENBERGER STRASSE 69
4040 LINZ
Austria
Activity type:
Higher or Secondary Education Establishments
Administrative contact:
Alois Ferscha
Tel.: +43 699 1111 1010
Fax: +43 732 2468 8426
E-mail
INSTITUT DE RECHERCHE ET DE COORDINATION ACOUSTIQUE MUSIQUE - IRCAM
France
EU contribution: EUR 98 045
RUE SAINT MERRI 31
75004 PARIS
France
Activity type:
Research Organisations
Administrative contact:
Hugues Vinet
Tel.: +33 1 44784888
Fax: +33 1 44781540
E-mail
UNIVERSITA CATTOLICA DEL SACRO CUORE
Italy
EU contribution: EUR 78 352
Largo Agostino Gemelli 1
20123 MILANO
Italy
Activity type:
Higher or Secondary Education Establishments
Administrative contact:
Castelli Guido
Tel.: +39 02 72342379
Fax: +39 02 72343868
E-mail