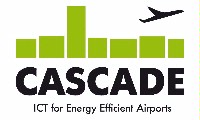 CASCADE
Project ID
: 284920
Financé au titre de
:
ICT for Energy Efficient Airports
Détails concernant le projet
Coût total:
EUR 3 874 591
Contribution de l'UE:
EUR 2 599 866
Coordonné à/au(x)/en:
Germany
Régime de financement:
CP - Collaborative project (generic)
Objectif
CASCADE will develop facility-specific measurement-based energy action plan for airport energy managers underpinned by systematic Fault Detection Diagnosis (FDD) Methods. CASCADE will develop a framework and methodology to underpin the execution of customised ICT solutions building upon existing ICT infrastructure. A measurement framework and minimal data set will be established that control and benchmark equipment performance, optimise user behaviour, and match client specifications. FDD enables beyond the state of the artenergy management because FDD can be used to detect problems in system design, equipment efficiency, and operational settings. CASCADE will enable transformation of FDD into actionable information by developing an energy action plan that links Actions-Actors-ISO Standards through a web-based management portal. CASCADEwill provide the European Commission with the opportunity to engage the European airport community on the topic of energy efficiency. Airports are politically visible and public hubs that connect Europe. ACI-Europe has committed its support to the proposal providing a direct exploitation channel to 400 of the 500 EU-27 airports. Furthermore, CASCADE embodies what E2B and the PPP is trying to do. It is industry shaped, politically visible, provides near term impact, creates jobs, and meaningfully addresses 20-20-20 targets. Airport managers are under considerable pressure to economise in energy management and need tools to provide adequate support. From CASCADE, they demand solutions that can integrate with existing ICT solutions installed at their facilities. From them, CASCADE can obtain access to their terminals, HVAC systems, renewable energy systems, co-generation plants, parking areas, maintenance hangers, security systems, etc. HVAC systems and CO2 reduction will receive special emphasis. CASCADE will target a 3 year return on investment and a 20% reduction of energy consumption and CO2 emissions.
Coordinateur
FRAUNHOFER GESELLSCHAFT ZUR FOERDERUNG DER ANGEWANDTEN FORSCHUNG E.V.
Germany
Contribution de l'UE: EUR 534 266
HANSASTRASSE 27C
80686 MUNCHEN
Germany
Activity type:
Research Organisations
Contact administratif:
Maximilian Steiert
Tél.: +49 89 1205 2721
Fax: +49 89 1205 7534
E-mail
Participants