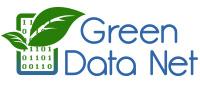 GreenDataNet
Project ID
: 609000
Funded under
:
Green and Smart Data Centres Network Design
Project details
Total cost:
EUR 4 354 946
EU contribution:
EUR 2 897 000
Coordinated in:
France
Funding scheme:
CP - Collaborative project (generic)
Objective
The GreenDataNet project aims at designing and validating a new, system-level optimisation solution allowing urban data centres to radically improve their energy and environmental performance. The objective is to develop a set of beyond state-of-the-art technologies that will allow urban data centres to reach 80% of renewable power and decrease their average Power Usage Effectiveness (PUE) from 1.6-2.0 today to less than 1.3. GreenDataNet will enable energy monitoring and optimisation of IT, power, cooling and storage at three levels: servers and racks, individual data centres, and networks of data centres. To further reduce the need for grid power, GreenDataNet will also work on the integration of local photovoltaic energy in combination with an innovative, large-scale storage solution that will facilitate the connection of data centres to smart grids. Within this project, second-life electric vehicle Li-ion batteries will be investigated as a more advantageous solution for data centres to become actual smart grid nodes.The whole solution will be implemented as an open-source platform to allow third parties to provide additional optimisation modules and ensure the long-term sustainability of the project. Three demonstration sites will be utilised to test and validate the GreenDataNet concept: a data centre from Credit Suisse in Switzerland, a data centre from CEA in France that includes a large photovoltaic area and a smart grid test platform, and a pilot site in the Netherlands that is being used by a Dutch consortium working on Green IT technologies. In addition, research on heat reuse vs. free cooling will be conducted in a new data centre built by ICTroom in Belgium. Performance indicators that go beyond PUE will be experimented in the project and will support the work of the consortium in standardisation bodies like CEN/CENELEC/ETSI. Based on the project outcome, GreenDataNet will release guidelines to help make data centres more sustainable in the future.
Coordinator
EATON INDUSTRIES (FRANCE) SAS
France
EU contribution: EUR 619 950
RUE BLAISE PASCAL 110 IMMEUBLE LE VISEO BATIMENT A INNOVALLEE
38330 MONTBONNOT SAINT MARTIN
France
Activity type:
Private for-profit entities (excluding Higher or Secondary Education Establishments)
Administrative contact:
Fabrice Roudet
Tel.: +33 4 76 00 65 32
E-mail
Participants