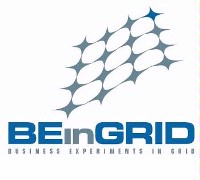 BEinGRID
Project ID
: 034702
Funded under
:
Business Experiments in GRID
Project details
Total cost:
EUR 23 621 022,98
EU contribution:
EUR 15 700 000
Coordinated in:
Spain
Funding scheme:
IP - Integrated Project
Objective
Grid computing promises to deliver a step-change in the way we do business in the European Union today. Its development is at a crucial stage. The Grid has already demonstrated its value to scientific research and it must now demonstrate its value to industry and commerce and thereby support the implementation of the Lisbon Strategy. This is the key goal of the Business Experiments in GRID (BEinGRID) Integrated Project.In order to meet this goal, BEinGRID is focussed around two complementary activities. Firstly, the project will undertake a series of targeted business experiment pilots designed to implement and deploy Grid solutions in a broad spectrum of European business sectors. Eighteen business experiments are planned in the initial stage of the project with a second call for proposals in the latter stage. Secondly, a toolset repository of Grid service components and best practise will be created to support European businesses that wish to take-up this important new technology. Coupled with these two main activities are cross workpackage technical support and development, dissemination, demonstration and training activities. To minimise redevelopment of components, BEinGRID will deploy innovative Grid solutions using existing Grid components from across the European Union and beyond.The outcome of the project will be a series of success stories from the take-up of Grid solutions by the businesses represented in the project, a repository of Grid middleware components and best practise, and a strong exploitation message from these success stories to stimulate the long-term take-up of Grid solutions by European business.The consortium of 75 partners, led by Atos Origin, is drawn from across the European Union and represents the leading Grid research organisations committed to its business use and a broad spectrum of companies keen to assess the benefits to their productivity, competitiveness and profitability from their use of Grid solutions.
Coordinator
ATOS ORIGIN SOCIEDAD ANONIMA ESPANOLA
Spain
EU contribution: EUR 1 450 700
Diagonal 210-218
08018 Barcelona
Spain
Administrative contact:
Santi Ristol
Tel.: +34 93 486 1818
Fax: +34 93 486 0766
E-mail
Participants